Ceramsite Sand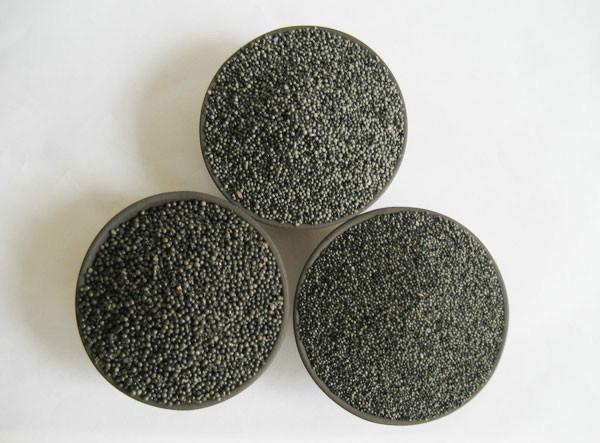 Ceramsite Sand
Product Code : C -01
Brand Name : REFMAT CORPORATION
Major Characteristics & Specifications Of Ceramsite
Introduction:
Ceramsite, also known as NFS CERAMSITE - Nice Foundry Sand, is a type of man-made spherical ceramic particles. These feature low thermal expansion and high refractoriness, made by the spraying melted from fused bauxite. It provides an efficient and simple way to improve the quality of castings in the foundry industry. It helps in reducing the cost of production and avoiding environmental pollution, hence it is better than silica sand. Also, it is good substitution to Zircon sand and Chromite sand because of its lower price. Today, the Ceramsite is accepted in the worldwide industry as the best and the newest sand for the foundries. And it has a broad applications feasibility for the future development.
Specifications:
Shape: Sphere
Angle Factor: ≤1.1
Refractoriness: ≥1790℃
Bulk Density: 1.95 to 2.05 (g/cm3)
Thermal Expansion: 0.13% - 10 minutes under 1000℃
Main Chemical Composition:
| | | | | | | | | |
| --- | --- | --- | --- | --- | --- | --- | --- | --- |
| Unit | Al2O3 | SiO2 | Fe2O3 | TiO2 | CaO | MgO | K2O | Na2O |
| % | 75.36 | 17.72 | 2.16 | 3.23 | 0.43 | 0.35 | 0.33 | 0.08 |
Ceramsite Advantages:
Solid Sphere: Ceramsite has spherical shape with smooth surface and the surface area is less, offering an excellent flow-ability as well as filling ability. In comparison with other sands, less binder is utilized at the same strength of mold and higher ability of venting. Also it offers very good collapsibility.
Lower thermal expansion rate: It makes castings dimensions better with less crack & defect, and offer improved output.
Lower breakage rate: Ceramsite has a lower breakage rate at the reclamation as well as a higher density. It makes improved rate of reclamations to cut down both the waste sand and pollution.
High refractoriness: The main chemistry is SiO2 and Al2O3, thus mostly mullite & corundum phase in the Ceramsite, which makes sure excellent refractoriness & thermal stability. Here the PH Value seems neutral. It is suited for all kinds of alloy and metal castings.

Particle Size Distribution of Ceramsite:
The distribution of particle size can be customized according to customers' specific requirements.

Spec

10

16

20

30

40

50

70

100

140

200

270

Pan

AFS Range 

1700

1180

850

600

425

300

212

150

106

75

53

Pan

200#

 

≤2

15-40

30-55

15-35

≤3

 

 

 

 

 

 

15-25 

300#

 

 

≤10

25-45

35-55

5-15

≤5

≤2

 

 

 

 

25-29

400#










≤10

25-45

20-40

5-25

≤7

≤5










35-39

500#

 

 

 

≤3

10-25

25-40

25-45

10-25

≤10

≤5

 

 

45-55

600#

 

 

 

 

≤10

10-30

30-50

15-35

≤15

≤5

≤2

≤1

55-65

650#

 

 

 

 

≤8

10-25

20-45

20-45

5-20

≤7

≤2 

≤1 

60-70

750#

 

 

 

 

 

≤10

10-25

25-45

15-35

≤15

≤5

≤2 

75-85

1000#

 

 

 

 

 

 

≤3

10-35

35-55

15-35

≤10

≤5

95-115

1250#

 

 

 

 

 

 

≤2

5-20

30-50

25-45

5-20

≤8

115-135

1500#

 

 

 

 

 

 

 

≤5

5-25

40-60

25-40

≤15

155-175

1800#

























≤5

35-55

25-45

≤25

180-210
Application Areas:

Foundry
Surface Shot Peening
Refractory Costing
Starting Mix For Steel Ladle
REFMAT CORPORATION
RM 2804, Block A, Powerlong City Square, Kaiyuan Avenue, Luonan New District, Luoyang - 471000, Henan, China
Mr. Andy Cao (CEO)
Email : sales@refmat.com